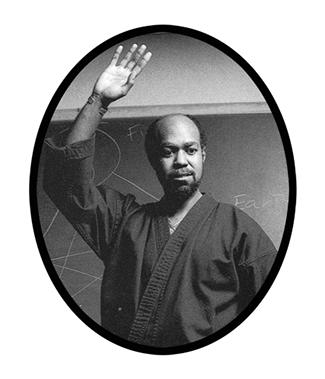 Our Common Ground- Portraits of Blacks Changing the Face of America
As he moves through the hallways of the Swedish Institute of Massage Therapy in downtown Manhattan, it appears as though his feet are riding on a cushion of air. His legs hardly seem to move as he walks to his classroom: his steps are soundless. Students greet him warmly as they pass, each calling him "sensei," a Japanese term of respect for a teacher.

Reginald Keith Herb Dancer Ceaser has been teaching the art of shiatsu, a form of Japanese massage, at the Swedish Institute since 1986. Aside from being a practitioner of shiatsu, he is a herbologist and a massage therapist. The practice of herbology dates back to man's earliest appearance on the earth. It is the practice of using aromatic plants, roots, and other natural items to create medicines or for use as treatments on their own.

His foray into the field of Oriental medicine has been shaped by many things in his life, not the least of which is his family background. Reggie's mother was Dutch and Matinnecock Indian: his father was of African and Blackfoot Indian descent. Reggie first saw his mother make use of liniments and natural healing methods to deal with family ailments.
Read more from Our Common Ground- Portraits of Blacks Changing the Face of America
Lectures
One of the lectures that I often do at the Swedish Institute is "Eastern External Applications" or "Eastern/Western External Applications" That would be supplementary modalities that a licensed massage therapist in the state of NY would be able to do besides hands-on modalities such as Mock-Sebastian, cupping, and Qua Sha. Qua Sha is another Chinese technique that we perform using the compress, various essential oils, liniments, and other tools, like heating. Mock-Sebastian is a heat stimulus- burning a specific herb above the skin. So those are the type of supplementary modalities lectures that I do as well as Ear Candling and Tai Chi and Qigong lectures.
I also do lectures on "Five Element Chinese Herbology", one of the things that I do in my practice, and my students follow the same methods that I do. We have herbs that relate to the Five Element system of massage that we practice. If someone has a weakness in, say, the respiratory system, we would tell them there are Chinese Herbal formulas that we have that we work with. Remembering that herbs are foods as well, and they could take them to strengthen the lungs, and help get rid of mucous or dampness in the lungs. I discuss the various herbs, what they do and how they relate to massage.